Available Puppies
Thank you for your interest in our multi-generational Australian Labradoodles! We are delighted to assist you in bringing home one of our puppies! Please email us for additional information at [email protected], thank you!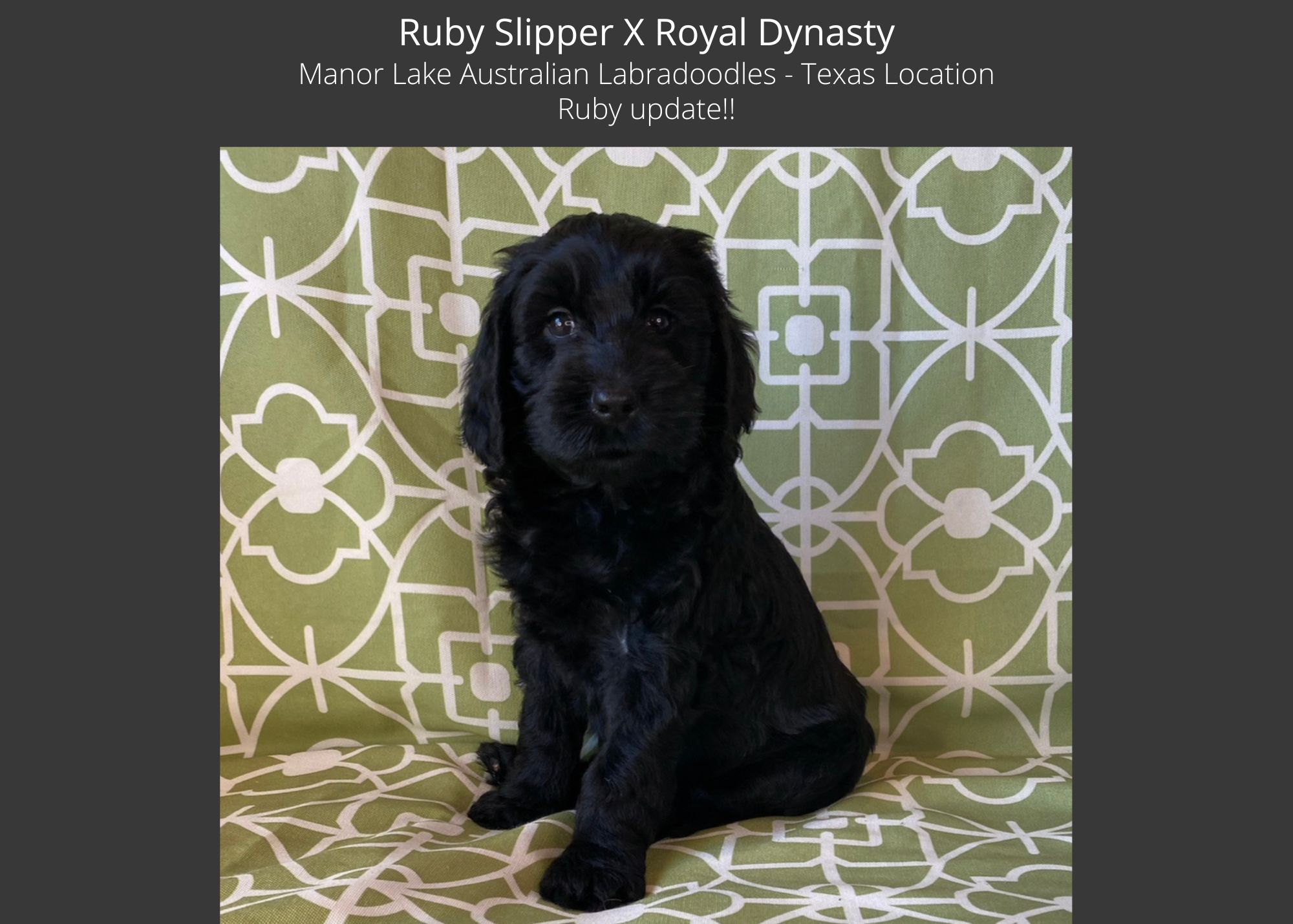 Ruby Slipper X Royal Dynasty
The dynasty continues with Ruby's and Royal's sweet babies! It is with such excitement to be sharing Ruby's babies with you all! Ruby brought us nine beautiful and healthy babies, five stunning girls and four handsome boys. Ruby's puppies have beautiful red, apricot and chocolate wavy-fleece coats that are non-shedding as well as asthma and allergy friendly! They are small now, but rest assured these puppies will have lots of love to give!
Ruby is our biggest girl and we are so happy there is so much of her to love! She is affectionate and adoring, she loves leisure time and giving bear hugs. Ruby also has a playful side and will catch a ball at any height! She is equal parts loving and friendly.
Royal has a legacy behind him! This beautiful boy is near and dear to our hearts. He has a superior temperament. Royal is a loyal and faithful companion! He is incredibly affectionate and loving and will follow you around wherever you go.
We have one puppy available on Ruby's litter. Her beautiful girl, with a spectacular black coat. This girl is all around splendid! She is affectionate and overflowing with love and sweetness. She will be your cuddly companion and an excellent family dog. She enjoys playing with her littermates and exploring the yard and house alike. She will be about 55 pounds at full maturity and ready to go home in mid-May! 
Please submit your application and email us your inquiries at [email protected], thank you!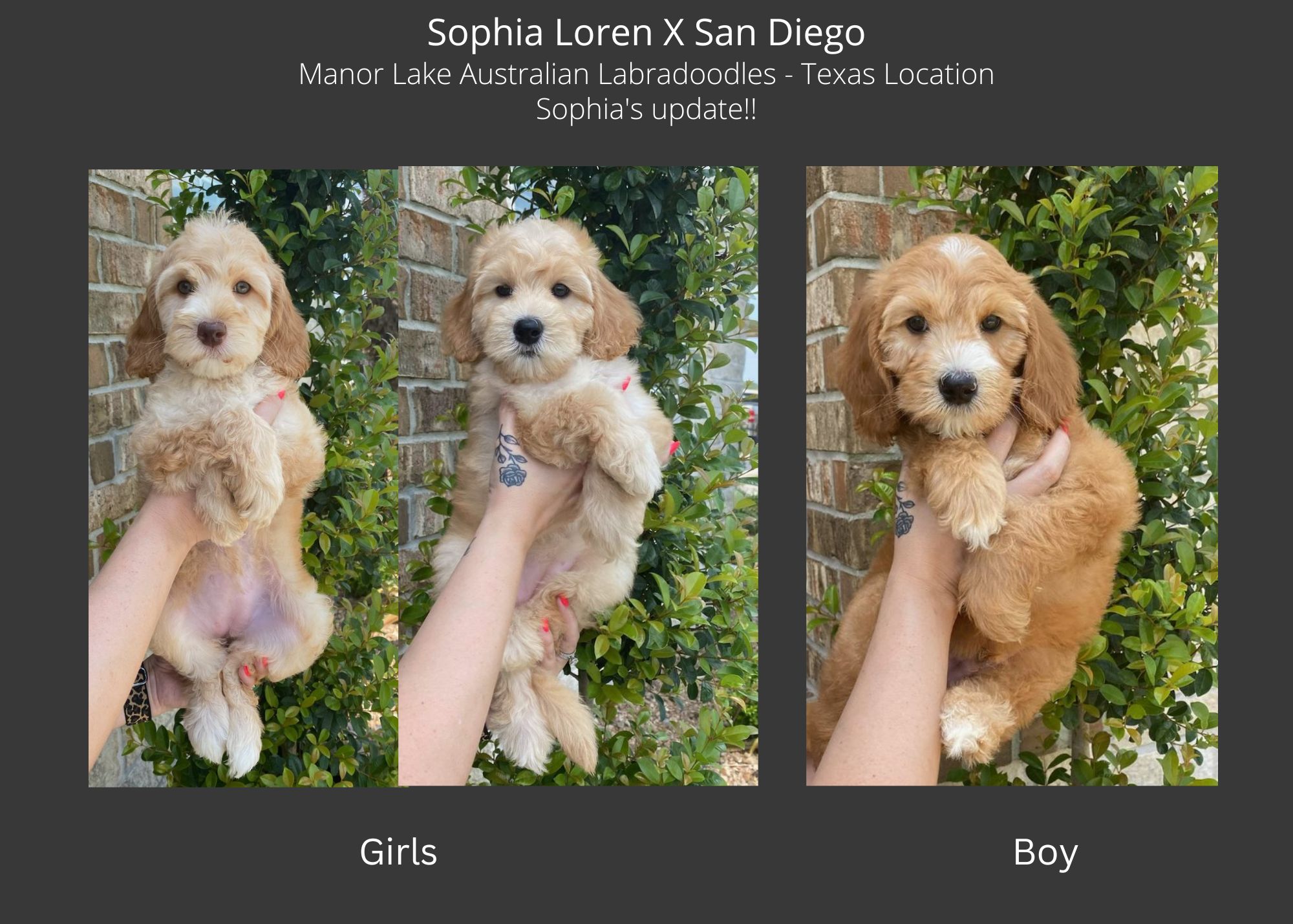 Sophia Loren X San Diego
Oh me, oh my! Our beloved Sophia brought us six amazing puppies! Three girls and three boys, and they are just cute as can be! Sophia's puppies will be about 25 pounds at full maturity and have splendid apricot and caramel coats that are asthma and allergy friendly, as well as non-shedding. We have one beautiful girl and one handsome boy available at this time!
Our stunning Sophia has the Manor Lake stamp, she has the classic Australian Labradoodle look and she is wonderfully sweet and playful. This girl will shower you in love and affection! She is a cuddle bug, a great companion, and a goofy girl. She carries her toys in her mouth wherever she goes. She is loyal and loving!
The ever so handsome San Diego has the biggest and warmest heart! He wiggles his rump in excitement, has caring and soft eyes, and just the most lovely boy. Diego will brighten your day with his sweetness and therapy-like temperament. We have really struck the jackpot with this beautiful boy!
At eight weeks old, Sophia's puppies spend their days playing with each other, exploring their surroundings and taking long afternoon naps. These beautiful pups get cuter by the day and their sweet personalities show a little bit more each day. They know the right place to go potty and just amaze us with their smarts and affection.
Please submit your application and email us with your inquiries at, [email protected], thank you!
Office Hours
Mon – Thurs: 9 am – 4 pm CST
Fri: 9 am – 3 pm CST
Mailing Address
13002 Highway 6, suite 1118 Santa Fe, TX 77510