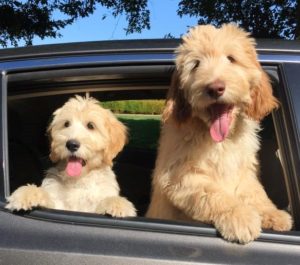 We do everything we can to come up with the perfect match of a Manor Lake Australian Labradoodle puppy for you and your family! We do this based on your preferences and desires, and using our expertise on puppy temperament. Our goal is to have happy families and happy puppies!
As it gets close to your puppy's arrival to you, there are a few things we would like you to do to help with an easy transition from our home to yours.
Pay Your Remaining Balance
Pay any remaining balance for your Australian labradoodle puppy via our website, by check payable to Manor Lake Labradoodles and sent to our mailing address: 13002 Highway 6, Suite 1118 Santa Fe, TX 77510. If you choose to pay using PayPal, there will be a 3% processing fee, but we also accept Zelle. Full payment of your puppy is due by six weeks of age. Please keep in mind, if you are mailing a check, it will take time to arrive and clear with the bank, and we ask that you please overnight or two-day ship the check.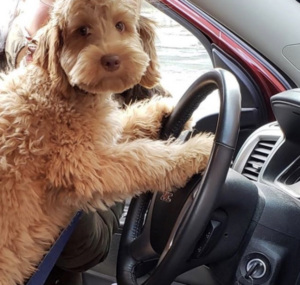 Picking up or Flying to You?
There are two ways you can pick up your puppy from us? You can pick up your puppy at our home or the puppy can fly to you. We are happy to go over these options with you and make the necessary arrangements. If your puppy is flying, please let us know which airport you would like your puppy flown to, and provide us with the name and contact information of the person picking up your Manor Lake puppy at the airport. Whoever is picking up your puppy will need a valid photo ID. This information is required for the airway bill and the health certificate. Once final payment has been received, we will book your puppies flight.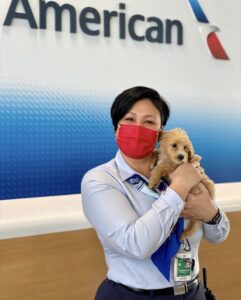 Schedule Your Puppy's Veterinary Appointment
If you do not have a vet already, you will need to find one. Your puppy will need their first check up within 72 hours of receiving your puppy for your health guarantee to be valid. It is best to schedule this appointment as soon as you have been matched to your puppy.
Order Food
Ordering your puppy's food ahead of time will ensure it arrives just in time for their arrival to you. We feed all our dogs Earthborn Unrefined Smoked Turkey Ancient Grains and Superfoods dog food, your puppy will be eating this before their arrival to you. It is important to keep your puppy on the same food to ensure your health guarantee and to ease your puppy into their new home. Earthborn Unrefined Smoked Turkey can be found Amazon and Chewy with quick shipping options, or at some local pet stores.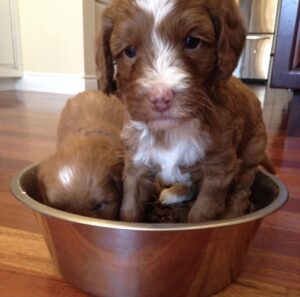 Sign up for Trupanion Pet Insurance
It is required that you sign your puppy up for the complimentary 30-day trial pet insurance by Trupanion. Trupanion Pet Insurance and Manor Lake have partnered together to offer you and your puppy coverage under their amazing insurance plan completely free of charge for their first 30 days home (you do not need to provide payment info). This needs to be done within 24 hours of picking up your puppy, and can be done at their website or by calling (855) 266-2156. We will also provide you with information from Trupanion at time of pickup. Accidents do happen, and we want to make sure all our clients feel at ease during their first couple weeks with their new puppy.
BAXTER and Bella Online Puppy Training
We have partnered with BAXTER and Bella online puppy school to bring you the latest and the greatest in training your new puppy, all from the convenience of your home! With a special Manor Lake discount code, you will receive access to online puppy school, training tips, and trainer support for the lifetime of your dog. Amy and her family are excellent trainers and explain everything you need to know about being a new dog owner with easy to follow videos. We highly recommend their services!
There is more information about BAXTER and Bella under our "Resources" tab.
House Preparation
There a few items that we like to encourage new puppy owners to get before they bring their new puppy home.
Training pen: Training pens are a great way to introduce your new puppy to your home! They are especially helpful for house training assisting with crate training and keeping a close eye on your puppy
Puppy pads: Our puppies are trained to potty pads starting at just three weeks old. Potty pads will help with transitioning from our home to yours and with accidents. You can purchase reusable, machine washable, pads as well as disposable pads. These are especially helpful on pick up day as your puppy will not be fully vaccinated and can be used on the car ride home.
Crate: We particularly like metal crates that come with a divider panel, this allows your puppy to grow into the crate space. We also encourage crate training, as it is a beneficial tool for all dogs: it offers a sense of security and safe for your pup and will give new owners peace of mind.
Food and water bowls: We suggest our clients to purchase stainless steel food and water bowls. Stainless steel is a non-porous material, meaning the bowls can easily be sterilized and will not hold on to bad bacteria.
Snuggle Puppy: Your puppies first night home will be its first night away from its litter. Snuggle puppies come with a heating pack and heartbeat that mimic the presence of a littermate, this will help your puppy ease into their new environment
Interactive Feeders/Puzzles: Interactive bowls and puzzles are a great way to provide enrichment for your puppy and dog by encouraging mental stimulation. These bowls and toys will keep your puppy or dog entertained and increase physical and mental exertion required to obtain their food/treat
Training Treats: Having a high-reward treat handy, rewarding good behavior is behavior that will be repeated! We encourage all our puppy's families to teach their puppy using positive reinforcement.
Toys: Your puppy will benefit from having a variety of toys. By this we mean, plush and soft toys and rubber/more durable toys. Having a variety of toys will keep your puppy entertained and also introduce them to new textures and sounds. While your puppy teethes, your puppy will be craving various sensations to aid in their teething-achy gums. 
We also have a document with specific items and links available for you upon request!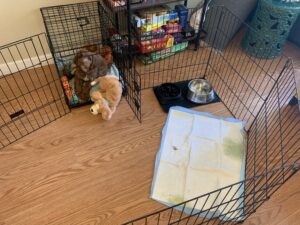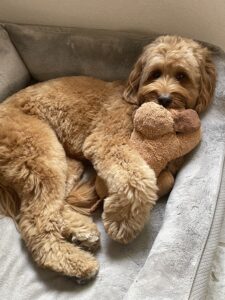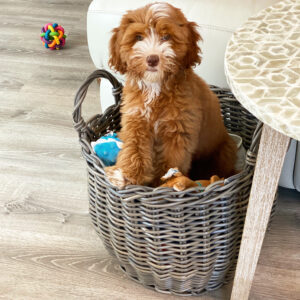 Tips for picking up your new Manor Lake puppy
Items to Bring When you Pick up Your Puppy
– Bottled water and water dish
– Old towels or blankets to put on your car seat if you are not planning on using a crate
– Baby wipes for easy clean up
– Potty pads
Tips for Picking up Your Puppy
– Hold you puppy to comfort them – your puppy may be a little scared
– Your puppy can sit on your lap for the car ride or you can use a crate – if your puppy has flown to you, we suggest letting your puppy sit with you
– If you choose to put your puppy in their crate, please attach a leash to them when you remove them from the crate – your puppy will not be leash trained but this is a safety precaution
– Take your puppy home for quiet time, the first 24 hours is a lot for your little puppy so make sure the entire house is all on the same page: quiet time
– Keep in mind your puppy is not fully vaccinated until it has had at least three puppy shots – dog parks, pet stores, and other high traffic dog areas are not a good idea until your puppy is fully vaccinated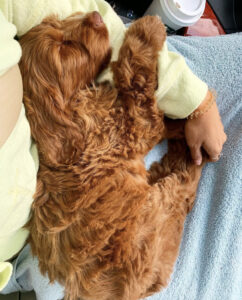 Helpful Hints on House Training
Your Australian labradoodle puppy has been trained to go potty on a pad system starting at three weeks of age. We recommend taking your new puppy to go potty every 30-45 minutes for the first two weeks.
At night you will want to pick up your puppy's food and water approximately 2-3 hours before bedtime. This allows your puppy to empty their bladder before bedtime, it is also helpful to get your puppy ready for their crate by playing with them and tiring them out during the last hour before bed. There is no need to take your puppy out in the middle of the night, nor do we recommend it. At this point your puppy should be fine to sleep through the night until about 6:00 am. In the morning, you will want to pick up your puppy and carry them to their designated potty spot. 
Remember, about half an hour after your puppy eats they will need to go potty. Learning your puppy's bathroom routine can be helpful and consistency and maintaining this routine is key when potty training your new puppy!
Office Hours
Mon – Thurs: 9 am – 4 pm PST
Fri: 9 am – 3 pm PST
Mailing Address
13002 Highway 6, suite 1118 Santa Fe, TX 77510