Manor Lake does our best to accurately predict timing of all upcoming litters. Mother Nature does play a role in this, and can sometimes affect the timing of heat cycle, as well as the availability for one of our studs. Manor Lake reserves the right to use a different stud than what is originally posted. In a time, such as this, we will do our absolute best to change the stud to another who will bring us puppies of equal size and colors. While it is unlikely, there may be a time when an upcoming planned litter may be replaced with an entirely different pairing. In instances such as this, we will notify the families and suggest another litter of similar size and coloring. Manor Lake reserves the right to hold back any breeding quality puppies for our breeding program from all of our upcoming litters.
To be placed on a litter reservation list, please submit your application and deposit! We are always happy to answer questions via email at [email protected]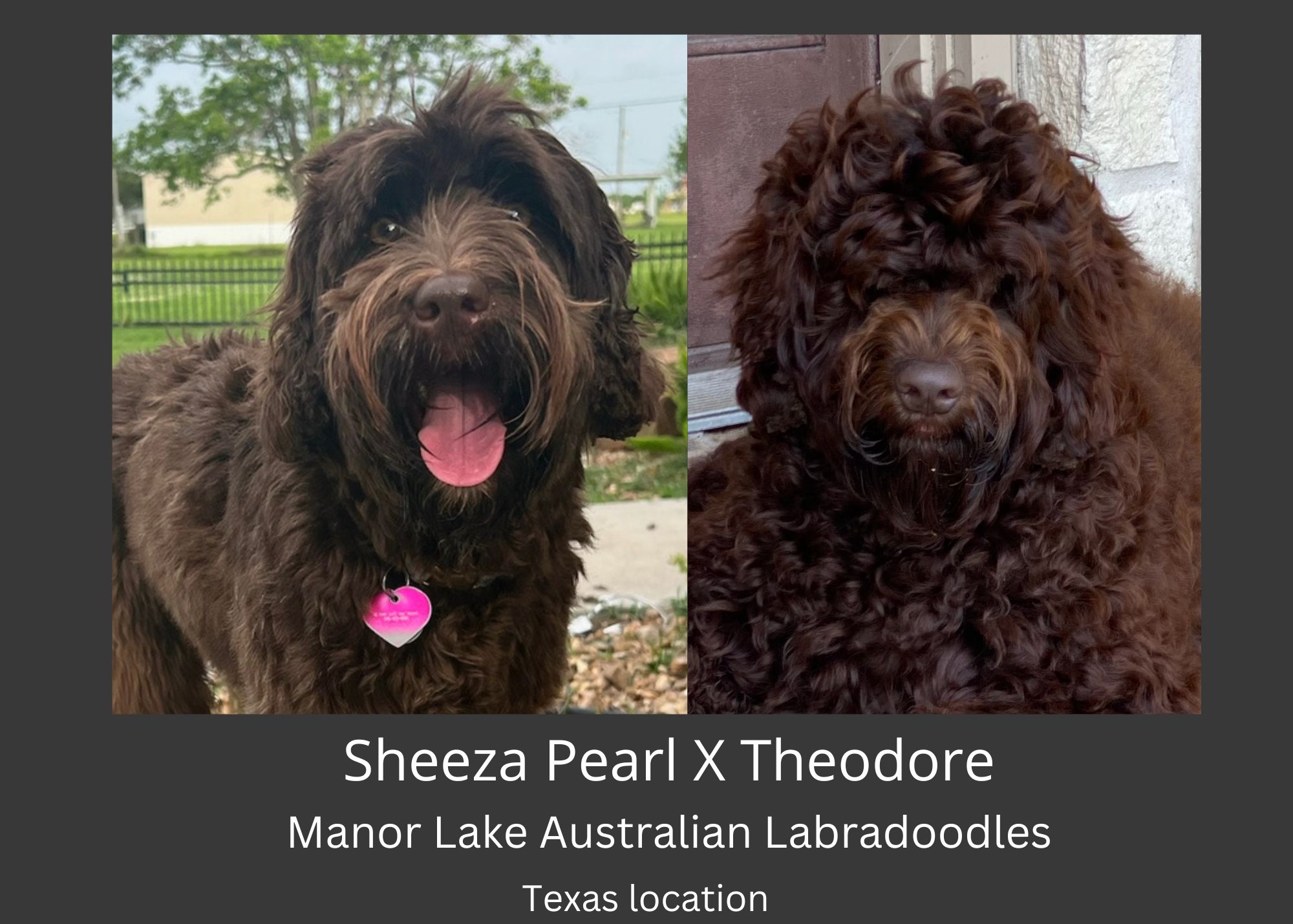 Sheeza Pearl X Theodore
Guiltless chocolate, it doesn't get much better than that! We are excitedly preparing for Spring litter with Pearl and Theodore! Pearl and Theo share similar temperaments and demeanors that are friendly and affectionate! We have hit the jackpot with Pearl with her sweet and caring therapy-like temperament. She is intuitive and playful, she is a wonderful companion and mother. Theo has a happy-go lucky personality. You will either find Theo chasing a ball in the yard or cuddling up for love and pets. His tail wags with non-stop happiness and he has a magnetic personality and infectious radiance, you won't want him to ever leave your side! These two should bring us beautiful chocolate, cafe, and caramel puppies that will be about 25 pounds at full maturity. Their coats will be wavy-fleece and allergy and asthma friendly as well as non-shedding. We would be happy to talk with you about Pearl's upcoming litter via email at [email protected], thank you!
Lucky Charm X Jalapeño AKA "Hal"
How lucky are we to be expecting puppies from our dear Lucky Charm!? Our Lucky has such a loving demeanor, this girl is affectionate, a little bit spunky, and has the biggest heart! She is proof good things come in small packages.  Hal is such a special boy. He has a mild-mannered temperament, meaning he is equal parts loving and cuddly, playful and friendly. He is the biggest love and has striking good looks! As two of our smallest dogs, we are expecting Lucky's puppies to be 20 pounds or under. Her puppies will be in various shades of chocolalte, cafe, and caramel, their coats will be non-shedding as well as asthma and allergy friendly! Lucky's puppies are due to be born late Feb/early March and ready to go home 8 weeks from then, about end April. Please email us for additional information at [email protected], thank you!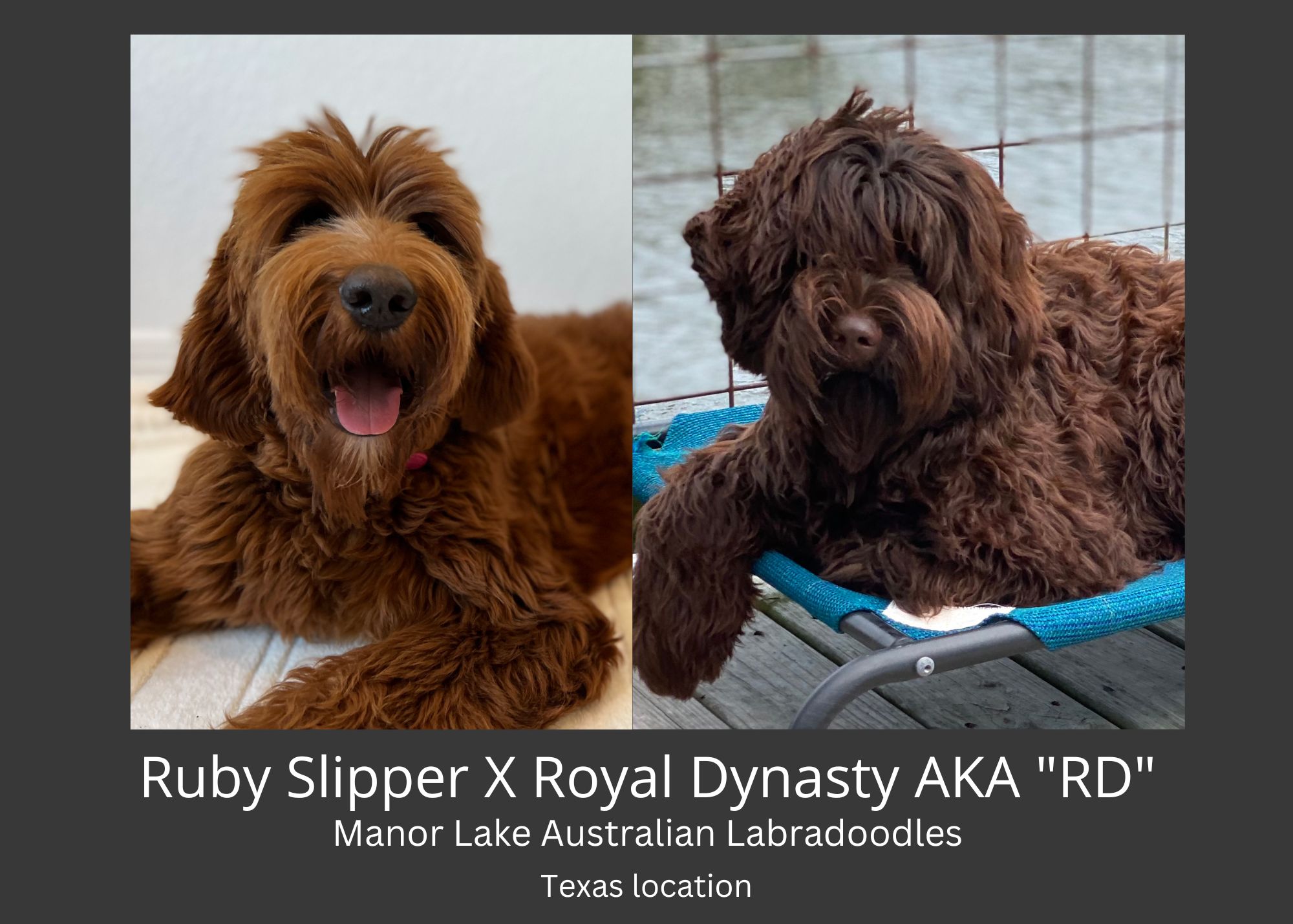 Ruby Slipper X Royal Dynasty aka "RD"
Sugar, spice, and everything nice! That is this pairing between Ruby and RD! Our two biggest dogs will be breeding together in the coming months. We are so happy there is so much of Ruby and Royal to love! Ruby is such an affectionate girl, she is never too far away: at the ready to please you or "sneak" onto your lap for some love! She enjoys cuddles and bear hugs, and running after the ball. RD has such a warm and friendly spirit, he captures the heart of everyone who meets him! He has caring and expressive eyes with the happiest demeanor. He too loves affection and is always up for an adventure. Ruby and RD will bring us puppies of all shades: cream, caramel, red, and chocolate! They will be standard dogs, most likely 50+ pounds at full maturity. Ruby should be coming into heat shortly and we are anticipating her puppies will be ready to go home mid/late May! Their puppies will be allergy & asthma friendly as well as non-shedding. Please email us for inquiries: [email protected], thank you!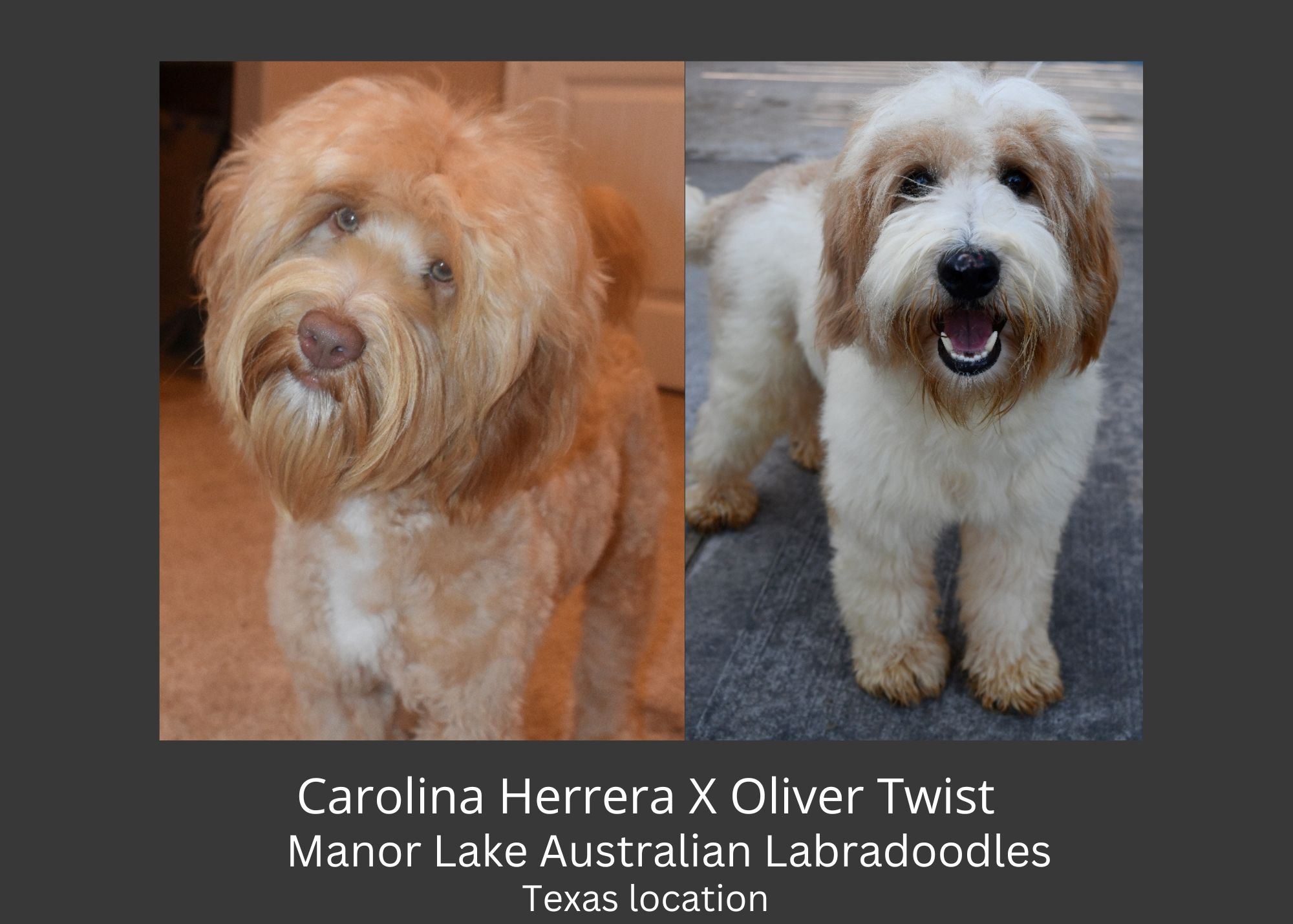 Carolina Herrera X Oliver Twist
We are so excited about the upcoming pairing of Carolina and Oliver! Their puppies of past litters have been incredible! Our sweet Carolina is a devoted companion and a highly intelligent girl. She has the classic good looks that Australian Labradoodles are known for and a bright, shining and caring temperament! She is an all-star. Oliver is our forever smiling and handsome boy! He is also very clever, intelligent and sweet. He is easy going with a therapy-like temperament that is hard to beat! Carolina and Oliver's puppies will be miniatures, between 17-24 pounds at full maturity, and will boast beautiful shades of caramel, apricot, and parti marking puppies! We are expecting Carolina to be coming into heat around early February and her babies ready to go home early-mid June. Please email us for more information at [email protected], thank you!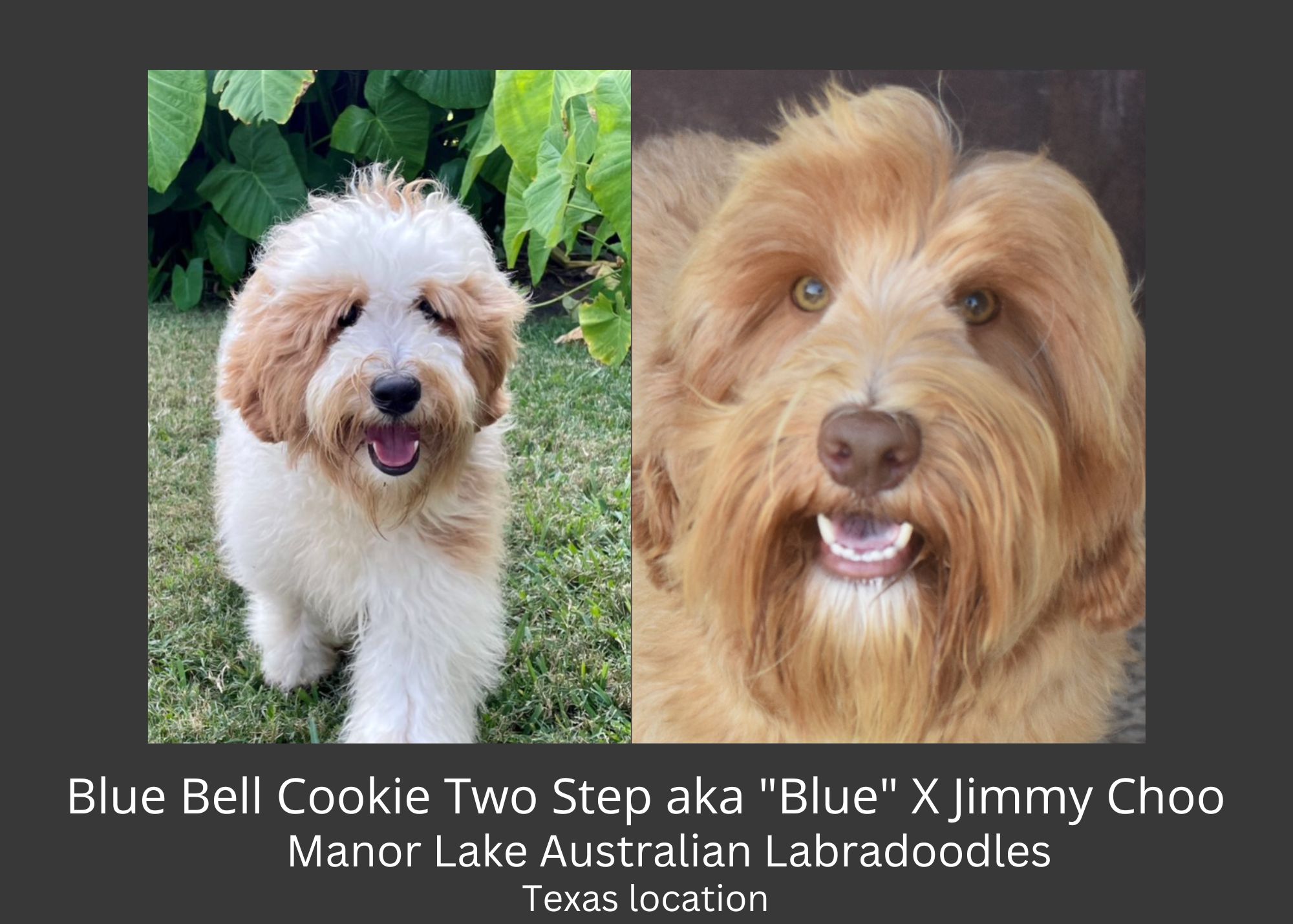 Blue Bell Cookie Two Step X Jimmy Choo
Get ready for the goodness that is Blue and Jimmy Choo! These two stunners will be expecting puppies together late summer/early fall and we could not be more ecstatic. Blue is a beautiful parti girl with the sweetest demeanor. This girl is calm, gentle, and cuddly, but don't let that fool you, she is a sucker for catch too! She is the idyllic family dog. Jimmy is as good as they get! He has a therapy-like temperament, affectionate personality and the sweetest soul you will ever encounter. Not to mention he brings us the most beautiful babies. Blue and Jimmy's puppies will be approximately 17-23 pounds at full maturity and will wear beautiful apricot, caramel, and parti coats that are not only non-shedding, but allergy and asthma friendly as well! Please email us to be added to their reservation list at [email protected], thank you!
Office Hours
Mon – Thurs:  9 am – 4 pm CST
Fri: 9 am – 3 pm CST
Mailing Address
13002 Highway 6, Suite 1118 Santa Fe, TX 77510